Mae Gweithredwyr Teithiau Bws CTA yn ceisio gwneud y mwyaf o botensial De Cymru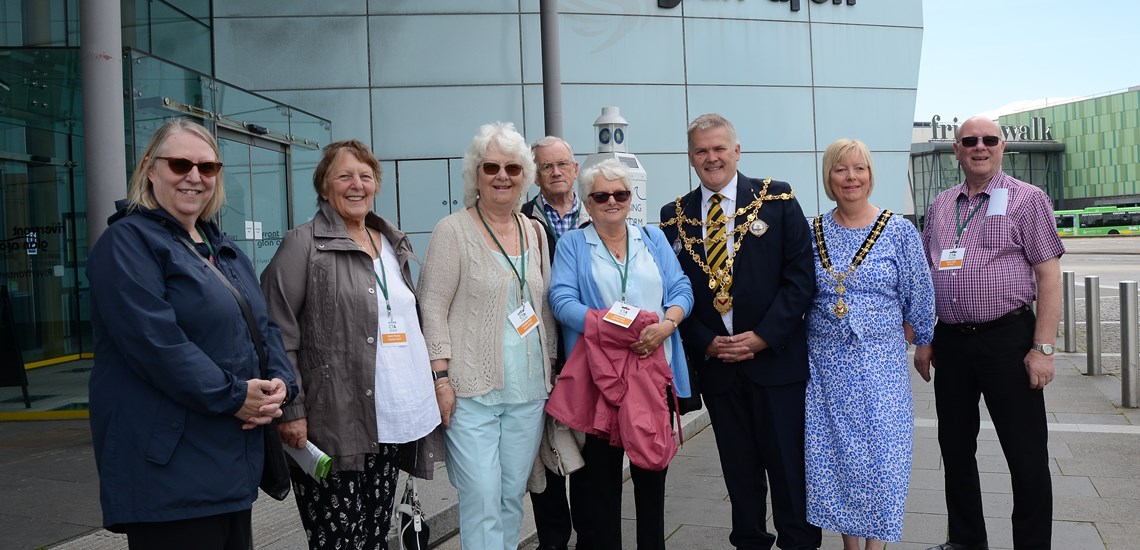 Welsh tourism organisations and local authorities provided a very warm welcome to Coach Tourism Association delegates for their Spring Networking event which is likely to lead to a strong boost for tours and excursions to the area.
The CTA event was sponsored by Visit Wales with strong support from Southern Wales Tourism who organised a packed Fam trip to local attractions which was preceded by a special reception lunch hosted by Newport City Council and attended by the 390th Mayor of Newport, Cllr Martyn Kellaway and Mayoress Helen Kellaway.
The CTA gathering was the first event for the brand new Mercure Newport which only opened ten days previously. The hotel is in the city's tallest building, the Chartist Tower in the centre of the city and has 135 bedrooms on 12 of the 15 floors.
Robert Shaw, CTA chair says: "We received a very warm welcome and amazing hospitality from our Welsh hosts and I am sure that CTA members will now be looking at new opportunities for tours and excursions to Southern Wales. Newport provides an excellent base for tours of the region and the stunning new Mercure in the city centre is a welcome addition to the range of hotels available."
Welsh Government Economy Minister Vaughan Gething adds: "Group and coach travel plays an important part in our visitor economy. Coach travel can also help us with our aim to introduce people to lesser known areas of Wales and to travel all year round - while also using sustainable modes of transport. Together we can hopefully grow the numbers of people embracing coach travel to enjoy more day visits and holidays here."
The Fam trip was one of the highlights of the event, expertly led by Steve Griffin, Griffin Guiding. It gave operators, wholesalers and CTA supplier members the chance to visit some key attractions, all within easy reach of Newport. The group travelled to two of Cadw's treasures, Raglan Castle which is said to be the grandest castle ever built by a Welshman; and Caerleon, known in Roman times as Isca, and one of just three permanent legionary fortresses in Britain, home to the National Roman Legion Museum, Roman Fortress and Baths, and  Amphitheatre. The Fam also took in Usk - Town of Flowers, and Tredegar House which is now run by the National Trust and boasts extensive gardens and parkland plus a fascinating house to explore including colourful tales of its former owners.
And no visit to Newport is complete without checking out the striking Transporter Bridge. Dominating the Newport skyline, Newport's world-famous Transporter Bridge, opened in 1906, is now one of only six such bridges still operational in the world, with only two in the UK, (the other being in Middlesbrough). Led by Newport City Council and backed by the Welsh Government and the National Lottery Heritage Fund, a major project is about to get under way that will deliver essential restoration works to the bridge. Once complete, the bridge gondola will offer opportunities for groups to enjoy afternoon tea on a gentle return trip, some 54 metres above the River Usk. The more adventurous will be able to climb the 177 steps to walk across the top of the bridge, nearly 74 metres above the river. The newly-renovated bridge, and a new visitor centre are due to open early in 2024.
Many delegates also found time to visit Newport Market which has been newly restored in a magnificent building including an amazing food hall and great collection of retail outlets. And another attraction close to the city centre is Newport Wetlands, an extensive area run by the RSPB with a number of rare bird and plant species and incorporating walks on a section of the Wales Coast path.
The Mercure Hotel Newport's outdoor terrace was put to good use with a showcase of the region's gin, rum, whisky, wine and mead-making. Delegates had the opportunity to meet a range of local suppliers to discuss coach group visits and sample produce including CTA supplier member Penderyn Distillery as well as Hensol Castle Distillery, Spirit of Wales, White Castle Vineyard and Wye Valley Meadery.
A further Showcase of suppliers from Southern Wales was also held at the hotel featuring some star attractions in the region: Blaenavon Heritage Railway, Caldicot Castle & Country Park, Cardiff Castle, Guardian and Heritage Centre, Llancaiach Fawr Manor, Nantgarw China Works & Museum, National Museum Wales, Royal Mint, Welsh Coal Mining Experience and Zip World Tower.
A conference session included a strong message about the importance of coach tourism to the area from Cllr Jane Mudd, Leader, Newport City Council and a commitment to work with the sector to boost visitors arriving by coach.
Cllr Jane Mudd, Leader of Newport City Council, said: "I am delighted to be able to host the CTA Spring AGM and Familiarisation trip, so that this important industry group can see first-hand the excellent heritage and culture we have to offer".
Heledd Owen, Director of Marketing for Visit Wales, echoed the warm Welsh welcome and pointed to the value of the increased support and cooperation with the sector since Visit Wales became a CTA Partner two years ago.
Delegates also heard a keynote presentation from David Anderson, Director General, National Museum Wales who also backed the message about the environmental benefit of coaches bringing people to the organisation's seven museums in a speech which highlighted the commitment to ensuring that culture celebrated the experiences of 'ordinary' people.
The event in Newport is part of the organisation's regular series of networking events which bring together coach operators and suppliers to help create new ideas and themes for their holiday programmes. The next CTA Networking event will take place in Glasgow, in partnership with Visit Scotland, on 24-26 July 2022.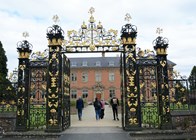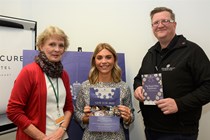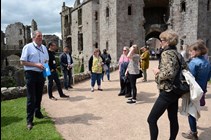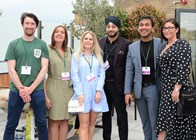 Photos copyright Stuart Render