Make 2021 Your Year of Adventure in South Wales
Please check COVID-19 booking terms and conditions with each adventure provider and check the latest Welsh Government guidance. 
Planning on visiting South Wales? As we dip our toes in the sea, dust off our walking boots, or set out on an epic adventure, let's make a promise together — to do the little things that will make a big difference. - Addo | Make your promise to Wales | Visit Wales
Whether the last year in lockdown has left you seeking an adrenaline rush, or you simply want a once-in-a-lifetime experience that you'll never forget, there's no better place than South Wales.
With everything from surfing to extreme biking and even a brand-new exhilarating zipline experience, there's no shortage for thrill seekers to choose from.
So, if you're feeling adventurous, here are our just some of our suggestions to try when it's safe to do so – be part of Visit Wales Year of the Outdoors 2021.
You'll be spoilt for choice in Rhondda Cynon Taf as they welcome two new attractions this summer!
Set to open summer 2021 on the Rhigos mountain above Hirwaun, and boasting stunning panoramic views, this adventure hub at the old Tower Colliery coal mining site is creating a whole new lease of life for this historic site. Home to Phoenix and the Tower Coaster, Zip World Tower, is the first of the company's zip lines in South Wales.
Phoenix is the world's fastest seated zip line; with 4 parallel lines in 2 separate zip zones, this zip line will see you flying across the Welsh countryside. Meanwhile, the Tower Coaster is the only of its kind in Europe! With unique side-by-side karts, it's possible for two people to ride at once. Who will you team up with? Find out more and book. 
That's not all for the county, as Gravity Family Bike Park is also opening at Dare Valley Country Park, Aberdare. This is a unique family cycling experience with downhill trails and three pump tracks along the trails to try out. An uplift service will transport you and your bike to the start of the trail.. Bring your own bikes, but don't worry if you can't, as bike hire is available onsite.
After all that exercise call into the Black Rock Café which has been revamped and is close to the brand new children's adventure playground. You can change a day visit into a full weekend by booking into the newly decorated hotel or stay with your caravan or campervan and sleep under the stars. Find out more and book.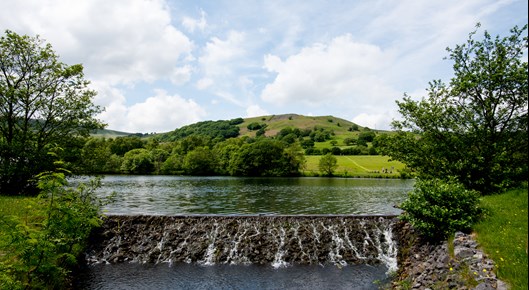 Kayak to a secret island, develop your bush craft skills and cool off with open water swimming at Parc Bryn Bach, Tredegar
Fancy bringing out your inner Bear Grylls? Kayak across the calm waters to the island in the centre of the lake and connect with the wilderness on a bushcraft course; have a go at building shelters, lighting fires and even foraging your own meal! After months of lockdown, get the whole family together, leave behind your home comforts and enjoy an outdoor experience not to be missed.
If you're after a new experience then swap the swimming pool for open water swimming in the 36-acre lake at Parc Bryn Bach. The water is expansive, the air clean and fresh, the views greener and a whole new world opens up. The lake is set in 340 acres of woodlands and wild flower meadows; the natural backdrop makes it all the more breath taking. And you can book into the caravan/camping site to make the most of your visit. Find out more and book.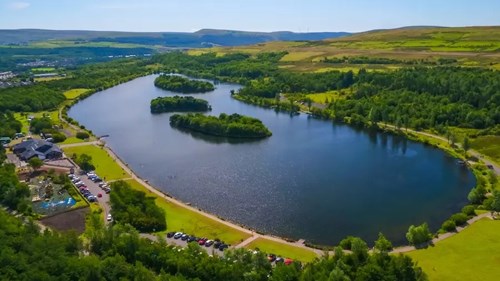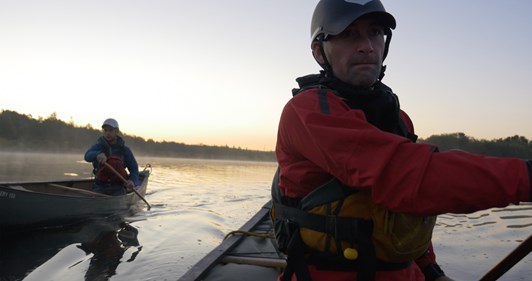 Experience adrenaline packed off road biking in stunning scenery, Merthyr Tydfil
Whether you ride for fun or as a family, Bike Park Wales promises to provide an unforgettable experience. With bucket loads of adrenaline and a sprinkle of fun, spend your days amongst the Welsh mountains exploring over 40 different trails – at least 3 new trails opening in 2021.
Dubbed the 'UK's greatest and most diverse selection of all-weather mountain bike trails' they have everything you need for a great ride. From a vehicular uplift service to transport you to the top of the trails, bike and equipment hire and coaching, as well as a great café for post ride relaxing; it's the perfect chance for you to get outdoors and feel exhilarated. Find out more and book.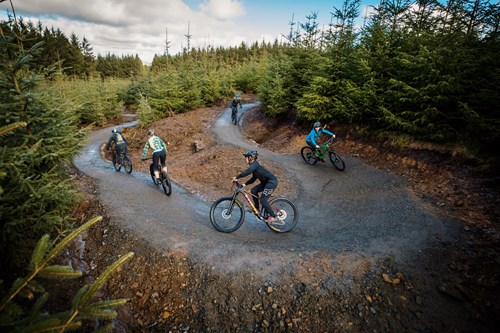 Surfs up! Learn from the experts and catch a wave at Rest Bay, Porthcawl
Who needs Australia, anyway?! Less than 3 hours from London, it is the closest, most consistent water sports destination from the capital. Porthcawl is Wales' very own Gold Coast – offering some of the best surfing  beaches in South Wales.
The award-winning Porthcawl Surf School, based at Rest Bay's newly unveiled state of the art £1.5 million water sports centre, will turn you into a pro in no time. Seriously! As a measure of their instructors' success, most people taking lessons manage to make it up onto the board on their first day!
Nearby there's Sandy Bay alongside Porthcawl's Eastern Promenade. Almost a mile long, the beach is popular with surfers, bathers and families with plenty of attractions for children with rock pools on the headland to be explored at low tide.
You can also have a go at the world's fastest growing water sport, stand up paddle boarding (SUP). As long as you don't fall off(!), it's a great way to discover our stunning coastline as you can travel great distances with relative ease. Find out more.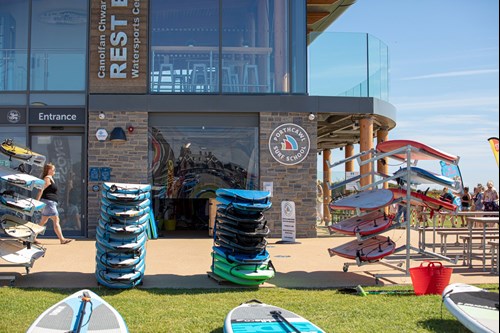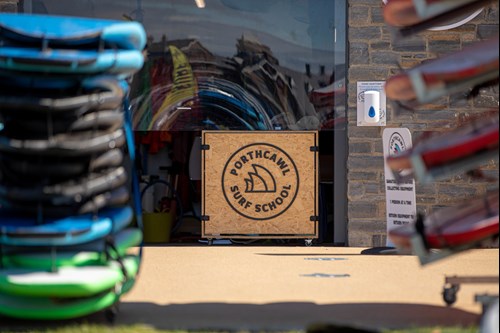 From walking trails or thrilling bike rides, Cwmcarn Forest is full of adventure!
The hills of this previously mined area have been transformed into peaceful forests with impressive views where nature has reclaimed the majority of the former industrial past.
From under a mile to nine miles, there are walks to suit all ages and abilities – with each offering different scenery and terrain, taking in the beauty of Cwmcarn Forest, the expansive lake and valley floor.
Feeling energetic? Take a 2 hour walk to the top of the Iron Age hillfort of Twmbarlwm. Once the centre for the Silurian Celts it offers incredible from Cardiff Bay in the south to the Brecon Beacons in the north.
Cwmcarn Forest is a cycling mecca for with the fearsome Twrch trail, Cafall and awesome Y Mynydd & Pedalhounds downhill trails (uplift available on Y Mynydd) Pwca blue trail and pump track all within this hidden valley. Virtually all the routes are purpose built single tracks through woodlands and open ridge tops with dramatic views.
As an added bonus you can book gorgeous lodges and glamping pods on the hill to make the very most of your visit. Find out more and book.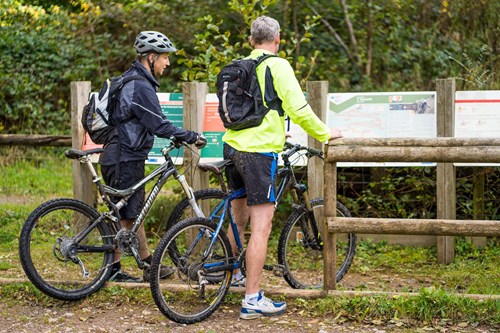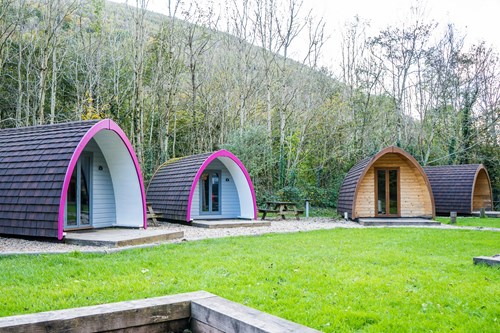 White water rafting in the centre of Cardiff? Yes please!
Always fancied taking on the rapids? Featuring twists and turns, Cardiff International White Water is perfect for thrill-seekers and is a great way to put your paddling skills to the test! Alongsiderafting there's kayaking and canoeing  as well as calmer, SUP.
Alternatively, call on your inner monkey (or challenge your little monkeys!) as you embark on the exciting high ropes adventure that is Air Trail. Tackle the heights of the steel and timber terrain hanging high above the rapids. Find out more information and book.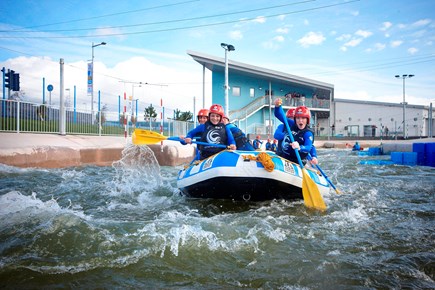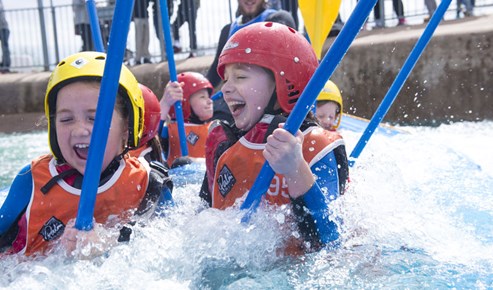 Grab your helmet and get on track for an experience of a lifetime…
Lockdown exercise got you feeling like an Olympic champion? Put it to the test! The Geraint Thomas National Velodrome of Wales in Newport is one of only five international recognised indoor velodromes in Britain, regularly playing host to Team GB and Paralympic GB training camps.
Join a course to discover the secrets of staying upright whilst speeding along the 250-meter oval shaped track with 42-degree banking at either end, before joining the regular race nights. There's also an outdoor speedway cycling track and plenty of great routes along the Gwent Levels and Vale of Usk for longer rides if the sun's shining bright. Find out more information.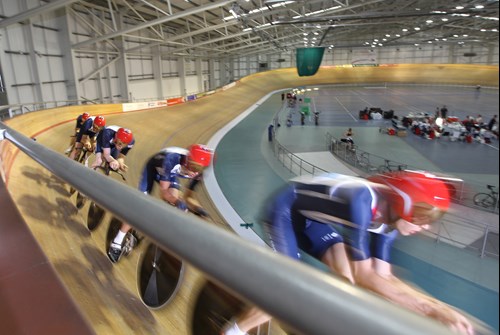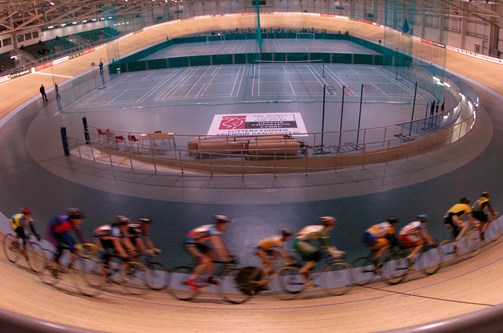 Sail away into a South Wales sunset at Llandegfedd Lake
Set in the heart of the beautiful countryside near Cwmbran, Llandegfedd Lake Visitor & Water Sports Centre offers one of the best sailing experiences South Wales has to offer.
The 434-acre lake is home to an array of water activities, with lessons on windsurfing, dinghy sailing, stand-up paddle boarding, canoeing, kayaking and raft building; we're almost certain you'll find something you love. You can even have a go at SUP Yoga and wild swimming is starting in 2021. Namaste. Find out more information and book.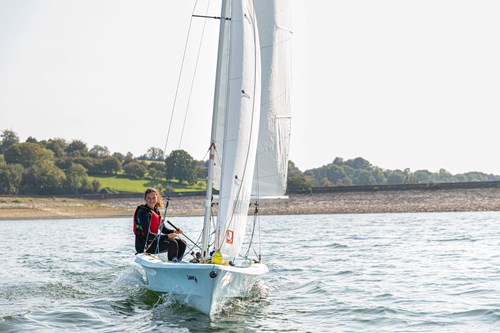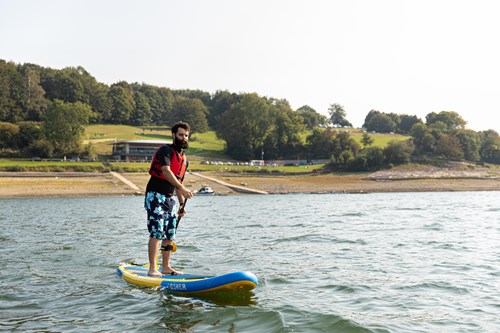 Uncover the myths and legends while exploring the beauty of the Vale of Glamorgan
The 870 miles Wales Coast Path takes you right around Wales, allowing you discover the diversity of this epic country's coastline. Along the Vale's rugged Glamorgan Heritage Coast section , you can see the last manned lighthouse in Wales as well as dropping down to fascinating beaches like Tresilian Bay and Reynard's Cave.
Inland, walk in the footsteps of one of the Vale's most colourful characters on the Iolo Morganwg Heritage Walk. If you dare, try the Haunted Field walk where you'll come across Neolothic Tinkinswood Burial Chamber - its capstone is one of the largest in Europe.
Don't forget to download the Vale Tales App that brings to life all the stories behind the trails. Stories of treachery, romance, Hollywood legends and dastardly deeds by famous pirates will make your walks come alive with the true history of the Vale. Find out more about the Wales Coast Path and download the Vale Tales App.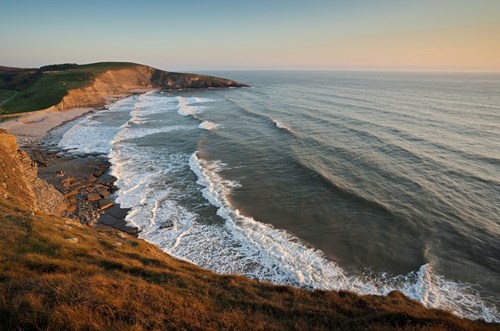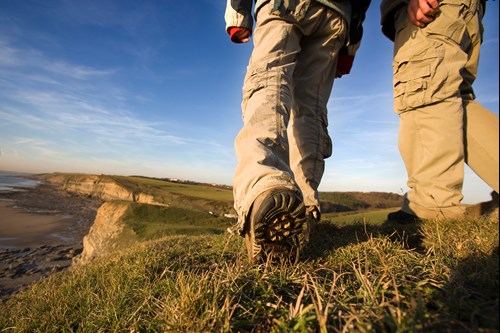 The River Wye, famous for salmon, otters…and canoeing!
Explore the stunning Wye Valley from the river, is one of the best ways to enjoy, relax and experience this breath-taking area of outstanding natural beauty.
You'd better pack a lunch! Starting from the centre, you can paddle your canoe up to 100 miles, taking various routes to Chepstow where the Wye meets back up with the River Severn amongst the Welsh mountains.
And if all that paddling has left your worn out, multi-day trippers can make a whole weekend of it and book a tipi experience to catch up on some much-needed rest, and have a go at SUP or wild swimming. Both Inspire2Adventure and Run Wild will ensure you have a memorable visit.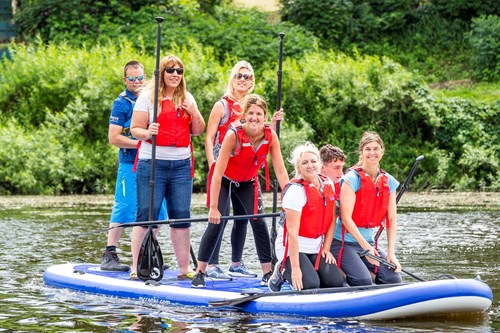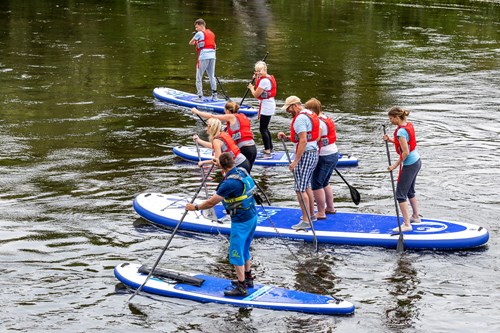 Make a weekend of it
Southern Wales has a diverse selection of places to stay – from tipis and camping barns, to luxury hotels and self-catering cottages that are a home from home. Check out www.southernwales.com for plenty of ideas of how to make a visit into a holiday.
Government Guidance
The 'stay local' regulations have been lifted in Wales, allowing people from across Wales and stay in self contained accommodation (including hotels with en-suites & room service). For visitors outside of Wales, we're sorry you can't visit Southern Wales at the moment but ask that you continue adhering to @welshgovernment guidelines. 
Please check the latest Welsh Government guidance.