Recently, Southern Wales Tourism hosted Lucy Foxell from London Unattached. Here is a taste of what she got up to – you can read the whole article on London Unattached website. 
Heritage, culture and more in and around Cardiff
"As a child I used to holiday in the Welsh valleys with my family, I have very fond memories of squashed in the back of my father's Wolsey squabbling with my three siblings whilst my parents pointed out the beautiful scenic countryside. However, it's all a very long time ago and if my memory serves me correctly I don't think we ever went to Cardiff, so I was very excited to be offered the opportunity to explore Southern Wales and visit its capital city." Lucy Foxell – London-Unattached
All photos provided by Lucy Foxell.

Coal Exchange Hotel
Lucy travelled on Great Western Railway, from London Paddington, arriving at Cardiff Central in just 1 hour 50 minutes, and she received a warm Welsh welcome when she checked into the Coal Exchange Hotel which is a historical landmark in Cardiff Bay. Built in 1888, the walls of this Grade II listed building were once filled with ambitious coal traders and negotiators. Now its being refurbished as an impressive hotel; currently there are 75 bedrooms available.
Her room was a spacious twin bedroom, decorated in shades of pink and green, creating an eclectic mix of traditional and modern décor. And she enjoyed a lovely welcoming gift of Prosecco, fresh fruit, and dainty strawberries dipped in chocolate.

Cardiff Bay
Having settled in, Lucy went on a tour of Cardiff Bay with Bryan from Cardiff Bay Tours, exploring the history that is inextricably linked with the Industrial Revolution when Cardiff became the busiest coal exporting port in the world, reaching a peak over 13 million tonnes of coal exports in 1913.
The story of Cardiff Bay is much more than coal; seafarers from around the world moved to Cardiff creating a diverse, cosmopolitan community, which is remembered with the Merchant Seafarers Memorial. Other highlights included the iconic Wales Millennium Centre, which is built of Welsh materials including slate and sustainable timber from Welsh forests; emblazoned across the front are words from the children's poet laureate Gwyneth Lewis both in Welsh and English – 'In these stones horizons sing'.

The Bay is home to a wide range of sculptures reminding us of the areas past:
The 'Beasty Benches', the work of Welsh sculptor Gwen Heeney, inspired by the mythical creatures in Dylan Thomas's poem 'The Ballad of the Long-Legged Bait'.
'People Like Us' by John Clinch, a bronze sculpture of a young couple and their dog looking out to sea.
'Antarctic 100 – Captain Scott Memorial' by Johnathon William looks out over the Bay at the point where Captain Scott's ship, The Terranova, set sail in 1910 on its ill-fated trip to the South Pole.
The Celtic Ring, by Harvey Hood marks the start of the Taff Trail which runs  to Merthyr Tydfil and on to Brecon.
And a wonderful mosaic, 'The Pioneers'  by  Stuart Street, commemorating those who created and shaped Cardiff's docks communities.

After dinner in the hotels restaurant, Culley's Kitchen & Bar (where they enjoyed crisp and creamy Welsh rarebit arancini balls, followed by succulent burgers with all the trimmings in brioche buns with crunchy slaw and crisp salty fries), it was a trip to the Wales Millennium Centre, just a 10 minute walk from the hotel.
Lucy saw "The Boy with Two Hearts" in the studio theatre. This beautifully staged play was written by two brothers, Hamed and Hessam and adapted for the stage by Phil Porter. It was featured on BBC Radio 4's Book of the Week and tells an extraordinary true story of an Afghan family whose lives were under threat from the Taliban and who escaped making an extraordinary journey to safety in the UK and to receive urgent medical help for their son. A very moving story, full of love and hope.

Day 2
After breakfast Lucy returned to the waterfront to join one of the boat tours that run throughout the year.
She took an exciting high-speed trip with Bay Coastal Voyages around the harbour and through the sluice gates out into the Bristol Channel which has the second-highest tidal range in the world only exceeded by the Bay of Fundy in Canada. The trip took in Flat Holm, which is now is a nature reserve but was once a retreat for monks, and is famed for receiving the first-ever radio message across the water by Marconi in 1897. Steep Holm, which is also a nature reserve famed for its beauty and home to the remains of a 12th-century Augustinian priory, was another highlight.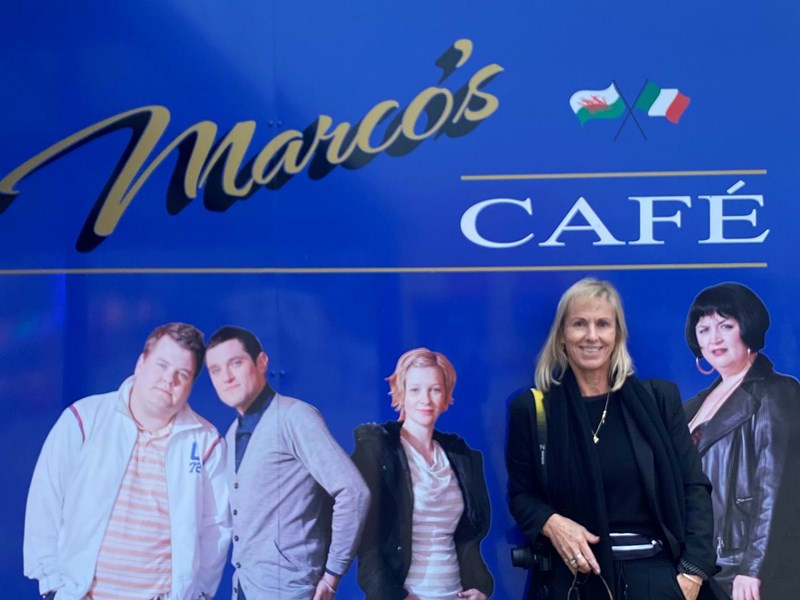 Trip to Barry Island
A quick change and it was off to Barry Island, famed for sandy beaches and candyfloss, as well as the iconic TV series, Gavin and Stacey. Lucy joined the official Gavin and Stacey tour of Barry with BritMovie Tours, which is an absolute must if you are a fan of this popular series.
The tour started at Barry Island station when the group climbed aboard 'Dave's Coaches' and went on a three-hour trip around the island, stopping at key locations and taking in the beautiful countryside. There was a sing-along soundtrack on the coach as they visited sites in the 2019 Christmas special, plus the street and the very house where Stacey lives, the arcade (and tattoo parlour) where Nessa works and the church where she nearly married Dave, ending at Barry Island seafront or 'Barrybados' as you might know it.

Dinner at The Deck
Dinner, on Day 2 was a taxi trip away in the elegant Victorian seaside town of Penarth at The Deck, a lovely contemporary waterside restaurant overlooking the marina. Unfortunately, it was too cold to sit out on the evening but they still enjoyed the stunning sea view from our table. Lucy dined on a succulent roasted duck breast with sautéed garlic potatoes tossed in caramelised jus and a good-sized fillet of tender hake perched on a bed of new crushed potatoes and black pudding. Accompanied by a couple of glasses of dry crisp and citrussy Gavi di Gavi La Contessa….it was a perfect way to relax beside the sea.

Exploring Cardiff
Although this was the last day of the weekend break in Cardiff, Lucy still packed in loads. She explored the busy shopping streets and arcades before heading to Cardiff Castle which was an unexpected discovery, sitting, as it does, in the centre of the city.
Steeped in nearly 2000 years of history this castle was once a Roman fort, a Norman stronghold and Victorian Gothic fantasy palace. It is undoubtedly Cardiff's jewel in the crown and an absolute must-see for all visitors.
Lucy was in awe of the ornate architecture and flamboyant and lavish interiors created by William Burges for the 3rd Marquess of Bute who was one of the richest men in the world.

Cardiff Castle
When the 4th Marquess of Bute died in 1947, the castle was given to the City of Cardiff and has since become a hugely popular tourist attraction. It houses the Firing Line Regimental Museum and interpretation centre and also hosts many events throughout the year.
A great new family attraction in the Clock Tower has also recently opened. Called 'Black Tower Tales' it gives a fun insight into the story of a local Welsh hero Llywelyn Bren's medieval struggle against the oppressive Sherriff of Glamorgan.
Then it was back to the train for the journey back to London. But Lucy took with her a recipe for Welsh Cakes which she fell in love with, buying them warm from the griddle at Fabulous as she walked around Cardiff Bay.