A safe welcome back
To make the most of your time here, please plan ahead and be aware that restrictions are being lifted at different times in Wales to the rest of the UK.
Before travelling, please check individual business website listings to find out:
whether businesses / sites are open
what their opening times are
whether facilities are available for example toilets
whether you need to book in advance
how you need to pay - some places may be contactless or cash only
To make the most of your time here, please plan ahead and follow the advice and guidance on the changing COVID-19 situation from the Welsh Government.
'We're Good To Go'
Our businesses have been working hard to prepare for welcoming you back safely. Look out for the 'We're Good To Go' industry kite mark for tourism and hospitality businesses for reassurance that they have followed government and industry COVID-19 guidelines, ensuring processes are in place to maintain cleanliness and aid social/physical distancing.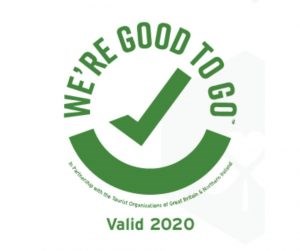 Make your promise to Wales. 'Addo'
Addo means to promise. To pledge. To vow. As we prepare to explore Wales, let's make a promise together to care for each other and this special place we call home.
Click here to….Make your promise to Wales